Step 1: Input & Research
Step 2. Creative Development
Step 3. Video Production
Step 4. Editorial & Post-Production
Step 5. Embed, Optimize, Upload
STEP 1:
The SiteFire process begins with a call from one of our creative directors. We'll guide you through a series of questions that enable us to understand what's unique about your business: your target audience, key selling messages, your competitors. We also learn about your company's personality and get your feedback on potential stylistic approaches.
STEP 2:
O
ur writers craft a custom script that delivers your core messages with the style and tone that suits your company best. Customer testimonials might be just right. Or perhaps a message from the company owner. Looking for something hip and chic--or how about tongue in cheek? We'll partner closely with you to develop the right approach and the written script clearly indicates how dialog, narration, imagery and tone will work together in the final video.
STEP 3:
If you've selected the videography option, we schedule a site survey and location scout with our videographer. This allows us to determine lighting and sounds requirements as well as optimum camera angles, ensuring the shoot day runs smoothly. Next, your 4 hour shoot is scheduled for a date at time that works for you. Lights! Camera! Action!
STEP 4:
The edit studio is where it all comes together: narration, graphics, music, location imagery and stock footage. We obsess of the tiniest details--ensuring every cut works, every word delivers, and every image advances your story. Next, we post your video on our client web site for your final review.
STEP 5:
Once your video is approved, we provide you with a DVD copy and the embed code you need to easily place the video on your website. Next, we optimize your video to enhance your ranking with the major search engine and upload it to leading video sharing sites like YouTube, MetaCafe and Vimeo.
Our streamlined web video production process means your custom video ad can be running on your website and top video sharing sites in about two weeks.





Great Service. Great Video.
That's the SiteFire Video way.
5 Easy Steps
That Will Set Your
Website on Fire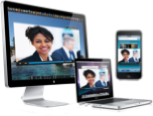 Learn More About
Online Video Marketing